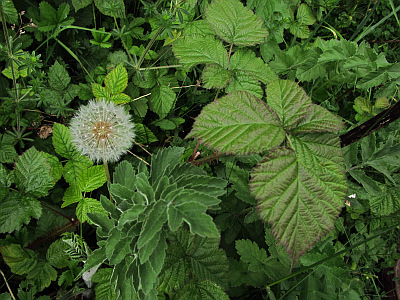 Some use rural footpaths to walk their dogs. I prefer to go alone or accompanied by an equally faithful companion, the Muse.
From a radio programme broadcast yesterday, part of a series called
"Ramblings"
:
Robert McFarlane: Paths run through people as they run through places. I'm fascinated by the idea that we understand ourselves and imagine our own interior landscapes in terms of the landscapes we love, inhabit, travel through, walk through, wander through.

Claire Balding: And do you think that we all have a landscape that's personal to us ... because it exists partly in our mind as well as what's in front of us?

R McF: ... Yes, exactly that ... A kind of heart-land, or in-land.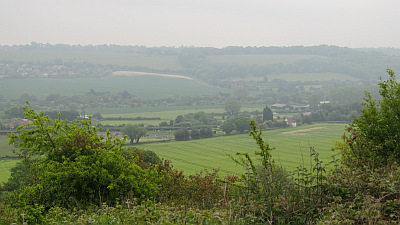 I went up Lodge Hill to revisit an interior landscape. It's the remotest place I know that's only a ten minutes' drive away. Remote as in being the site of an ancient human settlement, and more personally as a place I first discovered with my children one September morning, when the wild meadow near its summit was fresh with dew and shining with spider silk. Butterflies and moths danced amongst the wildflowers, so we called it Butterfly Hill. It lacks the majesty of height, being little more than a pimple on the plain, a shrubby outcrop like a small desert island; but it offers views to a misty horizon several miles away. Those butterflies and the many varieties of wildflowers, fostered a fancy that it might be a microecosystem.
This fancy evokes memories of Mount Kinabalu, Borneo's majestic peak, 14,000 feet. I've wandered its lower slopes with those children; and in their adulthood they've gone back and done the climb properly, one of them reaching the craggy summit.
Mount Kinabalu includes the Kinabalu montane alpine meadows ecoregion in the montane grasslands and shrublands biome. The mountain and its surroundings are among the most important biological sites in the world, with between 5000 and 6000 species of plants, 326 species of birds, and more than 100 mammalian species identified. Among this rich collection of wildlife are famous species such as the gigantic Rafflesia plants and the orangutan. Mount Kinabalu has been accorded UNESCO World Heritage status.
(Wikipedia)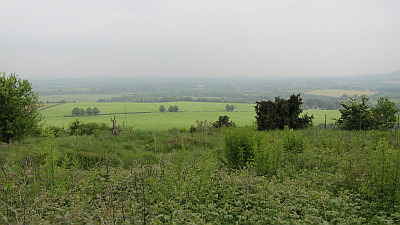 I reached the base of Lodge Hill by a random zigzag route. The public footpath I started from wanted to go a different way, so I abandoned it and improvised; thus in minutes re-enacting my life in allegory, a kind of
Pilgrim's Progress
. I had to cut across a field of ripening barley. To avoid trampling it, I had to walk in the tractor-tracks. Then I found a tiny winding footpath up the hill, the ground beneath bare and compacted, the wild flowers and hawthorn branches brushing me as I passed, leaving pollen and petals on my coat. I reflected that just as the path was my servant, in providing me the way up, so was I its servant, helping save it from being swallowed up by the rest of Nature. We continuously maintain this landscape with our labours. Unless that barley-field and others like it were sown and reaped, the grain would soon go extinct. I've read that they can't survive in the wild. "Consider the lilies of the field, how they grow; they toil not, neither do they spin." But we have to, if they are to be there still. So I felt that even by walking the path, I was helping keep the environment welcoming and beautiful.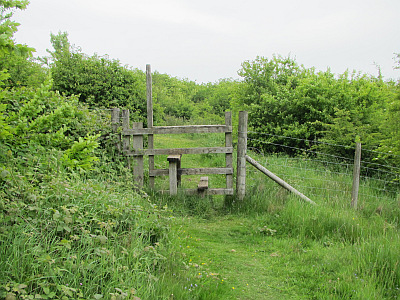 I observed the plants, and how they luxuriate on the side of this Hill, coping unfazed with the late spring we've had this year. They'd know what to do with much bigger catastrophes, too: biding their time, adapting, or even deciding it was time to go extinct. It occurred to me that they actually
embody
wisdom, a quality which formerly had to explained by the One God:
And God said, "Behold, I have given you every herb bearing seed, which is upon the face of all the earth, and every tree, in the which is the fruit of a tree yielding seed; to you it shall be for meat. And to every beast of the earth, and to every fowl of the air, and to every thing that creepeth upon the earth, wherein there is life, I have given every green herb for meat." And it was so.
Nothing was diminished of this magnificent vision of bounty and poetic utterance by our knowledge that the wisdom of the herbs bearing seed is contained within their own selves, and embodied in what we have learned to call their DNA.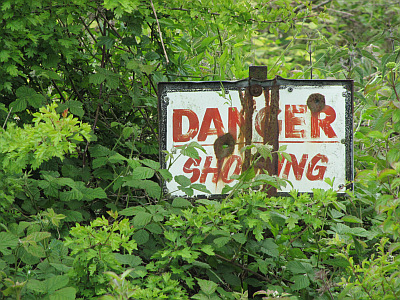 Then the path opened out, and there was a bench, with a brass plate: "In loving memory of Frederick (Ted) Vockins, who loved and worked this land. 1908-1998". On the right was a rusty enamelled sign, "Danger: Shooting" which had worried K when she first arrived from Jamaica. In her defence, it didn't look so rusty then. But two apparent bullet-holes tell their own tale. Ahead, a view of the valley: to the left, an old-style stile.
I remembered that Bryan had commented on my last "Even William Blake had a park bench!? I gotta get one of these things." Then I had replied that it has to be in a public park. It so happens that in England, a large proportion of all public benches have been sponsored, and it's almost a prerequisite that you're dead before you get one of your own.
I hadn't thought of it as being in a public park at all. It was my place, a discovery shared with family. There's the occasional dog-walker, and even groups of hikers sometimes in the summer. A smile and a few words of greeting is normally enough, but sometimes you meet someone more gregarious, and end up exchanging life-stories. And so I met there a man with five cocker-spaniels, who asked if I was "doing the Ridgeway". I'd forgotten that this trail, known as the oldest road in England, runs over Lodge Hill, and we were standing on it. The Ridgeway is now a kind of national park, 88 miles long and at its widest up to twenty feet wide including hedgerows. I lost track of time but we must have stood talking for more than half an hour till the dogs got restive and we went our separate ways. Five minutes later, I realized that since the terrain was impenetrable except on footpaths, and I wasn't planning a great detour which could have taken hours, I'd have to come back the way I'd just come; with the risk of running into the same man.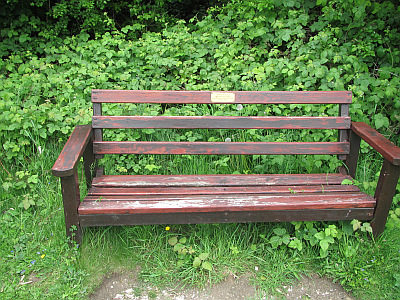 There he was again, sitting on another bench, inscribed, "In memory of Harold (Will) and Phyllis Ridgley, to whom this was a special place". I thought we'd had enough of one another, but he insisted I sit beside him. And then came a woman with three large dogs. She hastily secured two of them on leashes but the third got away. My companion, who's trained his as working dogs (retrievers for when he goes shooting pheasants), told them to "get lost", and they obediently did, following one another into the dense herbage of the meadow, where we'd once seen all those butterflies. The woman took her dogs onwards, and I was thinking of getting on myself, when we were accosted by a band of five or six hikers, complete with backpacks and walking poles. One of them asked, jokingly I imagine, if we were going to be long on the bench, as they had envisaged stopping there for a rest and a mid-morning snack. I jumped up and offered to leave but my new friend held me by the arm and questioned them about their own trekking. Yes, they were "doing the Ridgeway", and had come all the way from Sheffield for this very purpose. Soon they were a happy throng together, with much discussion about Ivinghoe Beacon, Coombe Hill, and other landmarks on the route; how many miles they planned to travel in a day and so on. The spaniels made friends with everyone.
The general gregariousness began to get irksome. This was not my space. I shook my new friend's hand in farewell, and gracefully fled.
Out in the wilderness, a park bench may provide a halt, a rendezvous, a place to catch your breath and rest your legs. In a municipal park it may stand proxy for the entire wilderness: a place where you can merge and melt into the world, and be part of the landscape; something I'm learning to do wherever I am.