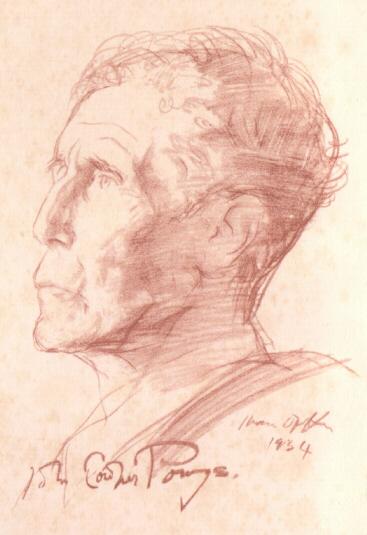 To save telling you a long story, I'll say that it happened out of the blue. I have nothing against long stories
per se
, but there is a gulf between baring your soul, which I try to do in these pages, and exposing your personal life to the entire world, which every blogger avoids.
"All public revelations at bottom are games in which concealment plays a major part: the more one lays oneself bare, the more one keeps hidden. Like the Confessions of Jean-Jacques Rousseau, the Autobiography of John Cowper Powys contains the kind of intimate confessions that one would be reluctant to reveal to one's best friend . . ."
That was from an essay I wrote ten years ago. It began with these words:
"How many autobiographies have ever been written in which the author fails to mention his own mother? One at least: and in this instance he goes further and omits from his narrative any reference to his five sisters and two wives. If I add that his novels which were already renowned and remain as 20th-century classics are scarcely mentioned either, you may wonder what, in 650 pages written at the age of sixty, the author considered worthy of inclusion."
Fernando Pessoa employed a different strategy. His
Book of Disquiet
is subtitled
A Factless Autobiography
. It is presented as fiction, the outpourings of Bernardo Soares, one of his authorial alter egos, or as he calls them "heteronyms". Factless because almost entirely constructed from the narrator's inner life. Not only that, but he desires nothing
beyond
an inner life. The details of his daily existence—a small fifth-floor apartment in Lisbon with a view of the streets and the river beyond, a job as a book-keeper—these provide a framework rather than content. Of all writers living or dead (most, naturally, are dead) Pessoa is the one I follow most eagerly; for his genius and for extending the boundaries of what can be said. So I'll tell you about some of my weekend.
Let's suppose that it happened out of the blue that I went as guest to an evangelical-charismatic church service lasting a couple of hours. The invitation arrived by email:
"On Sunday, if you would like to come with us to our church (it is an experience not to be missed!) we would love it ..."
They don't have their own building—that's another story. So the congregation of 200 was seated in a school gym, facing a band (drums, three guitars, trombone, keyboard, female vocalist) a screen for the words of the songs and other visuals, lecterns, mikes. There was chatter, children wandering around, a sense of freedom & anticipation. An "elder"—young man casually dressed like everyone else—cracks a joke into the mike, quietens the chatter, mentions the six different children's groups in other rooms, indicating when the migrations to and from those are to occur. Then bursts forth the first thund'rous song of praise, and the next, till we are all in a frenzy of jumping, clapping, rejoicing at the love of Jesus and our good fortune at being able to express it and address Him. All ages are represented here, including several frail white-haired ladies, who aren't going to let age hold them back.
I wasn't personally caught in this wave of joyful affirmation, certainly not this early in the proceedings. But I owed it to the sense of community, the general embrace, to be present, and not behave as if I had been dragged there in handcuffs. I was surprised not to raise any inner barrier, not to hold myself at a distance; but there was nothing to object to, really; though in the Church of England service, so traditional and nostalgia-friendly, my critical inner monologue is seldom quieted. The Jubilee Church, in its simple affirming way, its emphasis on Jesus' love, its proud indifference to hierarchy, ritual and fine points of doctrine, provides all the critique I could desire— of other forms of Christianity. Naïvely, I thought at first it was a one-off manifestation, unique to this seaside town, but as the service continued, I realised that such an artless-crafty confection as Jubilee Church had to be a franchise. And so it turned out. Searching online, I have no difficulty in discovering clones everywhere, for instance
here, in St. Louis, Missouri
:
We are a group of people that love Jesus and are passionate about connecting people to Him.
. . .
At Jubilee services you'll hear relevant music and teaching from the Bible presented each week in a compelling and applicable way. All of our locations run programs for children.

Expect God. We can't change lives but Jesus can. We expect the presence of God in all of our meetings! God's presence brings joy, healing, hope, and life. We come together to meet with and worship the Creator of the universe and to be changed by Him.

Expect Honesty. You don't have the time to go to a fake religious ceremony, neither do we. Every sermon is real and honest. All teaching at Jubilee is from the Bible and applicable to real life. We don't need gimmicks and hype, we need truth.

Expect Love. Urban, suburban, black, white, rich, poor, young and old, anyone can worship with us. At Jubilee, our vision is to grow in our diversity.

What to Wear? Come as you are. Let your tattoos show or wear a suit and tie. It doesn't matter if you haven't shaved in a few months or if you prefer a clean cut, you'll have friends at Jubilee. Authenticity is important to us. God loves you as you are and we do too!
Can there be any negatives to this, I thought.
Meet me in St Louis! We will dance the "Hoochie-Koochie". I will be your "Tootsie-Wootsie."
People get together, the formula works, the energy's generated, it gives a great feeling, they call it Jesus. They are gentle people, it won't make them break any laws or offend their agnostic neighbours.
But I did not mention the picket line that tried to block our entry when we arrived at the school grounds. They were chanting "Shame on you!" and so forth, and waving their placards. All very English and more or less polite, perhaps because they were outnumbered by a bunch of good-natured English bobbies, who had everything in hand, and looked relaxed. Who knows, there are professional trouble-makers who might have joned the fun otherwise. And if the police weren't there, you can be sure the congregation would be boosted by some uninvited guests. One of the conventions of Jubilee Church is to let a person speak as the spirit moves. And since "authenticity is important to [them]", I don't know how they would deal with hostile heckling. I don't think they would tolerate growing in
that
kind of diversity.
The picket line was actually a Carnival, if
Socialist Worker Online
is to be believed, which it's not, I suggest, but I'm grateful to them for the pic and the linked report, which I believe more or less true apart from the spin. The background is this. A member of the Jubilee Church congregation has started a movement which aims to venerate human life from the moment of conception and give the unborn a voice, to say "let me live. Don't let me be chopped up in the womb, my only destiny to have my little hands and feet photographed to scare fallen women (or at any rate women who have fallen pregnant), when they seek abortion, already agonised by the clash between maternal instinct and the practical demands of this tough world". That was me of course, not the self-appointed spokespersons for the voiceless foetus. Whoever provides the voiceover for the silent inevitably overlays his own prejudice upon the unknowable. Giving voice to the silent is a venerable practice, for God is silent, apart from the many prophets who have put words into His mouth.
The songs played by the loud band, accompanied by 200 ragged voices, interspersed by spontaneous outpourings of praise or prayer from the floor, could be seen if you like as the warm up for the pastor's sermon. He's actually called the senior elder, and it's called a "preach" or a "talk", but no matter. It was the best sermon I have ever heard, perhaps the greatest piece of modern oratory. You can download his Invitation to Close Encounters
here
. He links Adam's longing for a partner, one of his own kind, to God's; then mentions God's covenant with Israel, which was like a marriage ceremony; then God's longing, God's love, expressed through Jesus, who chooses the Church as His bride. On the way he paraphrases Hosea 1:2: "And the LORD said to Hosea, Go, take unto thee a wife of whoredoms and children of whoredoms: for the land hath committed great whoredom, departing from the LORD." He represents the whole of Christianity as God looking for a loving relationship with us. He chooses his words carefully, stays very clear of saying "Everybody wants to get laid." Still, he ends up suggesting that we each find a partner in the next ten weeks, if we don't have one to hand, to discuss the ten-week project of exploring how God wants to love us. Using his own marriage as an example, he invites us to consider that in relationships, we have to change, to ensure they keep working. "Hint: God is changeless." Ah. Homework for this week: find a partner to share your journey. Get together with another member of the congregation, but if they are already paired off, why not a threesome?
Though the "preach" is available online to download, remember that it came at the end of the service, after the invigorating warm-up. It may not be so effective consumed cold. Colin was preaching mainly to the converted, as is always the way, but I see it could work on "even those who say 'I don't even know if Christianity is true'". Did it work on me? I felt the pull, the warmth of the invitation. An orator knows how to press buttons, knows we all have them. I'm a tough nut to crack, resistant to community. My idea of the divine is closer to nature-mysticism, and that flourishes in solitude.
Oratory is powerful. Crowds united in common purpose are powerful. They can wreak mischief as well as benefit. The strongest impression I took away from Jubilee Church was the energy awakened in its congregation. There was only one doctrine: that this energy comes from God, who wants to act through His Church to bring about His will. To this end the Jubilee congregation have linked with others in Lesotho and Albania for charity and missionary work. They are trying, so far unsuccessfully, to get their own permanent premises, so that they can work with the community locally, for example in youth work. And there is this business about "giving a voice to the unborn", which has aroused a certain backlash, not just amongst the self-styled socialists. To its credit the Church distances itself from the initiative of its anti-abortion activists, whilst supporting their aims. See
this statement
from the pastor, as carefully constructed as his sermon.
Doing good to people without them asking first, without waiting for them to accept offered help, without checking that they have the same idea as to what's good for them—this is what we might call "do-goodery". We could also call it, in some cases, being a damned nuisance. Botherations tend to generate opposite and ever-escalating counter-botherations, such as the one I witnessed. During the quiet parts of the service, the discordant sounds of the "Carnival" at the school gate could be clearly heard. More than one speaker wryly mentioned that it was salutary, not to mention Biblical, to suffer persecution.
So you could say that a good time was had by all, except some women who didn't want to listen to their unborn child. They came to get separated from its voice, its growing and unwanted presence. It seems to me more likely that the anti-abortion people were more motivated by unsolicited do-goodery, inspired by the high energy generated in church, than what they call the voice of God.
-----
For more about the protest, see
this blog
, which demonstrates clearly how futile & counter-productive it is to start an anti-abortion campaign in England.