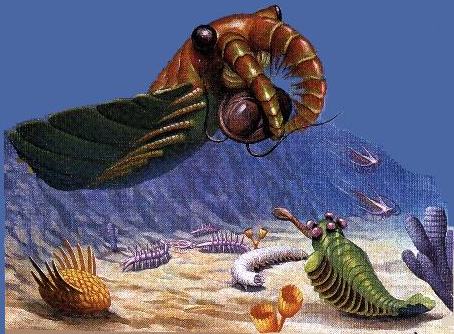 In the beginning was the void. How big was it? How long did it last? It's impossible to say because time and space had not yet been created. Let's imagine it as an empty matchbox. The Prime Mover, impatient for things to start, opened the box and the void escaped like a genie from a bottle. Time, space, matter, energy all came into existence.
Matter divided into elements, gases at first, coalescing into hot stars, and sometimes planets. Some parts hardened into rocks, the rest slopped around in a chemical soup, tethered by a newly invented force, gravity. "It is good", said the Cosmic Intelligence to itself.
On a planet of days and nights, excited elements danced all day in the chemical soup, aroused by hot rays beamed from the local star, and by close proximity to one another. Randomly following their impulses—attracted here, repelled there—they endlessly swapped partners and formed gangs. Not the Montagues and Capulets, the Sharks and the Jets, but the Alkalines and Acids. When they attacked one another, debris was formed, resulting in new compounds of varying stability.
Thus it was that the Amino Acids became dominant, a tribe noted for their endless variety of structure, which folded up into braids called proteins. By some mysterious transformation, these formed into
organisms.
Thus was born
Life
.
Life differs from simple rocks, gases and water. Its characteristic is to generate individual organisms which come into existence and then die. Instead of being constantly created from scratch, they
reproduced
themselves, in endless
generations
. Successive generations were more complex and better adapted than the ones before. This came about through sexual differentiation—each organism being either
male or female
. The new generation wasn't just produced from the production of spores, or eggs, from an old organism before it died. It resulted from a
reproductive act
, an act of creation as extraordinary as the one which brought forth
something
from the void of
nothing
at the beginning of time.
And so there were animals, which miraculously developed into a teeming variety of unlikely shapes and habits of life. My illustration shows an artistic reconstruction of some of the creatures whose fossil remains were discovered in the Burgess Shale, in the mountains of British Columbia, Canada.
Somehow or another, the various lineages, branching over the generations, produced hominids (great apes) and then the genus Homo, of which you and I are the species
homo sapiens sapiens
. A characteristic of our species is to accumulate hereditary lore, not all of which is wisdom, for it takes many generations to winnow the grain from the chaff. By the time I was born, and grew to absorb some of it, Sigmund Freud had come and gone, leaving his mark which inspired Ernest Becker (see my previous post) to say this:
"Man is literally split in two: he has an awareness of his own splendid uniqueness in that he sticks out of nature with a towering majesty, and yet he goes back into the ground a few feet in order blindly and dumbly to rot and disappear forever. It is a terrifying dilemma to be in and to have to live with." (Becker,
The Denial of Death
, p. 28)
Clearly his words have struck a chord with many, if not with me personally. He's making a claim about the difference between man and the other animals and it prompts me to set out this, my own creation myth, that is, to summarise those parts of hereditary lore which make sense to me, and which I can live by.
Till recently I was writing a book of my own, entitled
I am an Animal
. It was well advanced, but I got stuck on the structure. I seemed to have produced a dinosaur, which could not adapt to the changing environment of my constantly developing ideas; or a winged bird too large for flight by some law of engineering unknown to me. And now I see that one of the (very many) weak points of my manuscript was its failure to adequately express what I meant by my title; and more generally my failure to express what I most profoundly wanted to say.
I usually find myself most grateful, in the end, to the person or idea I most mock at first. It is Ernest Becker who makes me see that my creation myth must address the difference between man and the other animals in a manner that's cogent but also resonant. I need not worry about the science: my myth will inevitably reflect it, having been constructed in an ambience permeated with science, mostly transmitted through Wikipedia and BBC Radio 4.
Quickly and superficially, I scan the options for what differentiates man. Two-legged walking can't be it, for the birds got there first. To the poetic imagination, it's their ability to fly that excites wonder, not two-legged locomotion, which bestows no towering majesty. Skill with the hands, the ability to construct tools? It's certainly important, but there are some parallels in other animals.
I conclude that the development of facial and laryngeal muscles that lets us talk, and a brain development which allows limitless elaboration of language, are the key factors. There is also the matter of soul. I started this blog with the question "Do fish have souls?" and concluded, in the five years since, that if man has a soul then so has every creature, so have the rocks, so has the air, so has the empty space, if there is such a thing. This, you may say, is God: except that I don't see evidence of just
one
God, acting in a co-ordinated manner.
I've left my creation myth very incomplete. I still haven't explained, in this my first attempt at a twenty-first century equivalent of a Kipling "Just So Story", why human beings are so different from one another.
Nor have I explained why a profession has come into being where people like Sigmund Freud have laboured to try and cure the freakiness of their patients and themselves, and been listened to with some seriousness, even when they say things like this:
"What I have tried to do ... is to suggest that the problem of heroics is the central one of human life, that it goes deeper into human life than anything else because it is based on organismic narcissism and on the child's need for self-esteem as
the
condition for his life." (Becker,
The Denial of Death
, p. 7)
Perhaps human beings are so different from each other that each of us compiles his own creation myth.