I've been interested in the conversations of birds since a day in March 1971, in the churchyard of Hinderwell, a village in North Yorkshire. I had chewed a small square of wallpaper, which had been soaked in LSD. I learned the language of the rooks, almost. But that is a story for another day.
This morning on my way to the supermarket, I became aware of a wheeling seagull above me. We have a lot of them round here, though we're 70 miles from the nearest coast. They thrive on junk food scattered half-eaten in the street. I noticed a rhythm in the gull-crying. The flying one went "squaak squaaaak" and was answered with a quiet "si" from another gull, whose head projected from atop a chimney-stack. Back and forth, again and again: "Squaak squaaaak". "Si"—just the single syllable, like a señorita assenting to her lover's entreaties. For I assumed that the squawking flyer was wooing her, with his airy dance of dash, wheel round and dash again, while she watched and meekly said "Si". So I looked up at him, and then her, back and forth. I don't think he liked it. He started to utter two kinds of warning cry. I can't reproduce them, only my own translation: "Get away!" as he wheeled back and forth; "Or Else!" as he started to dive-bomb me, not yet aiming for the eyes but scary all the same, then swooping back up ready to repeat the performance. It has happened before, same month, same street, in 2006. I wrote it up in a post called
Who are you staring at?
.
Now, if his spouse was nesting on the chimney-stack, I was no threat to eggs or chicks. So it couldn't have been that. I think he just didn't like me being a "peeping Tom" to his love-life and domestic arrangements. So I wasn't going to carry on watching till he almost poked his beak in my eyes. I turned my back, crossed to the other side of the street. The warning cries and dive-bombing stopped at once.
* * * * * * * * * * * * * * * * * * * *
I rescued a spider from the bath yesterday. It hadn't yet fallen in but was hanging by a thread like a would-be suicide on a ledge twelve storeys above the Manhattan traffic. I did the decent thing and put it down gently in a dark corner where it could scuttle away in safety. In the afternoon, the self-same spider (I'd swear to this in a court of law) had constructed a perfect web, anchored from the rim of the tub and the shower-curtain rail.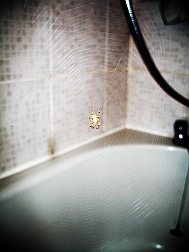 There, you can see it for yourself, lit up in the camera's flash. I was a little peeved. This was no way to repay my kindness. In any case there was no point. As far as I'm aware, no flies visit the bathroom. The window stays closed. The door, thanks to a recent oiling of its hinges, always swings shut. A beautiful web was wasted, and could not remain as it blocked entry to the bath. But we respected the intention and workmanship and carefully made sure to leave it undisturbed overnight.
Early this morning, I turned on the bathroom light to find the spider dismantling its creation: recycling the threads by devouring them, till nothing was left of the web. Since then, it has taken up a brooding position on the underside of the shower-curtain rail, where the rings won't sweep it off its perch. Now what? Like the seagull, it seems ready to fight this one out, sullenly waiting till we cede the bathroom as a no-go area for humans. I'd been expecting gratitude for saving its life, not this.
I'd be better to leave other species alone.