I spent the morning engaged intensely in 'writing', if you can call it that. Needing a break, I revisited Gerrards Cross, keen to capture a photograph of the Odeon, to confirm that it hasn't changed since the photo (from the Sixties) that I published the other day. Ahem! I must be living in a fantasy world. In my last post but one, I showed the same photo and remarked, "I remembered going there once. It didn't seem to have changed at all." Compare my two photos: judge my reliability as a witness. (Ignore the "Nudist Paradise" posters. They were put up for a "Carry on" film.)
Never mind that. Does Gerrards Cross welcome the wayfarer? Dear member of the jury, consider the evidence.
Exhibit A. A pump at the village's main crossroad. Inscription thereon:
THIS PUMP WAS ERECTED BY
JOHN BRAMLEY-MOORE ESQ., M.P.
IN THE YEAR 1864 FOR THE USE OF
THE WAYFARER IN GERRARDS CROSS
-----
Whosoever will, let him take of the water of life freely.
The quotation is from Revelation 22:17. Who was John Bramley-Moore*, and why was he so thoughtful of the wayfarer's need? Does the pump still work? No.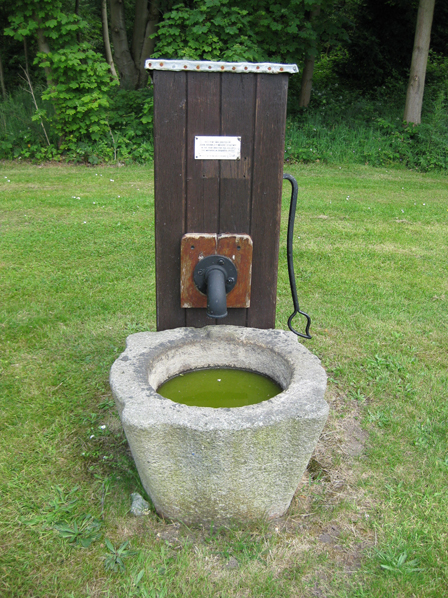 There are further observations I could make on Gerrards Cross (or rather my very personal response to yesterday's visit), but they will have to wait in note form till a certain mountain of words has been organised into smaller mountains.
I refer to the 'writing'. I've started on some editing but mostly I'm assembling the material. It's reached 864 pages, 264000 words—the length of 3 full-size novels. So where I've been a foot-soldier I now have to be a general, marshalling an army. Or a commander-in-chief, a Churchill or an Eisenhower. Or even something beyond that, to define what war is about, a Clausewitz pondering his
Art of War
.
But I won't stop being a foot-slogging wayfarer here.
* Postscript
I looked up John Bramley-Moore. The Gerrards Cross pump wasn't his only philanthropic gesture. He made donations for the general maritime welfare of Liverpool, for the "BRAMLEY-MOORE MEDAL FOR SAVING LIFE AT SEA, 1872" and in 1849 to a Fancy Fair for the benefit of the Infirmary Northern & Southern Hospitals. He opened a dock and had it named after him, being Chairman of the Liverpool dock committee. Consequently a pub near the dock gates was named the Bramley Moore, and still exists today. I'm grateful for further information from a review of this pub (
follow this link
), excerpts from which I republish below:
Ah yes, the name.
Both pub, dock and, for good measure, a tug are memorials to John Bramley-Moore, Lord Mayor of Liverpool from 1848 to 49.
. . .
A former chairman of the Docks Committee, he was ostensibly a merchant who made his money trading in Brazil. A typically no-nonsense Conservative when it came to looking after his money, when there was a strike he once brought in outside labour, declaring with menaces: "I'll break the legs of any man who stops me getting through this gate."
. . .
Ahem. I really ought to get on with my 'writing'.