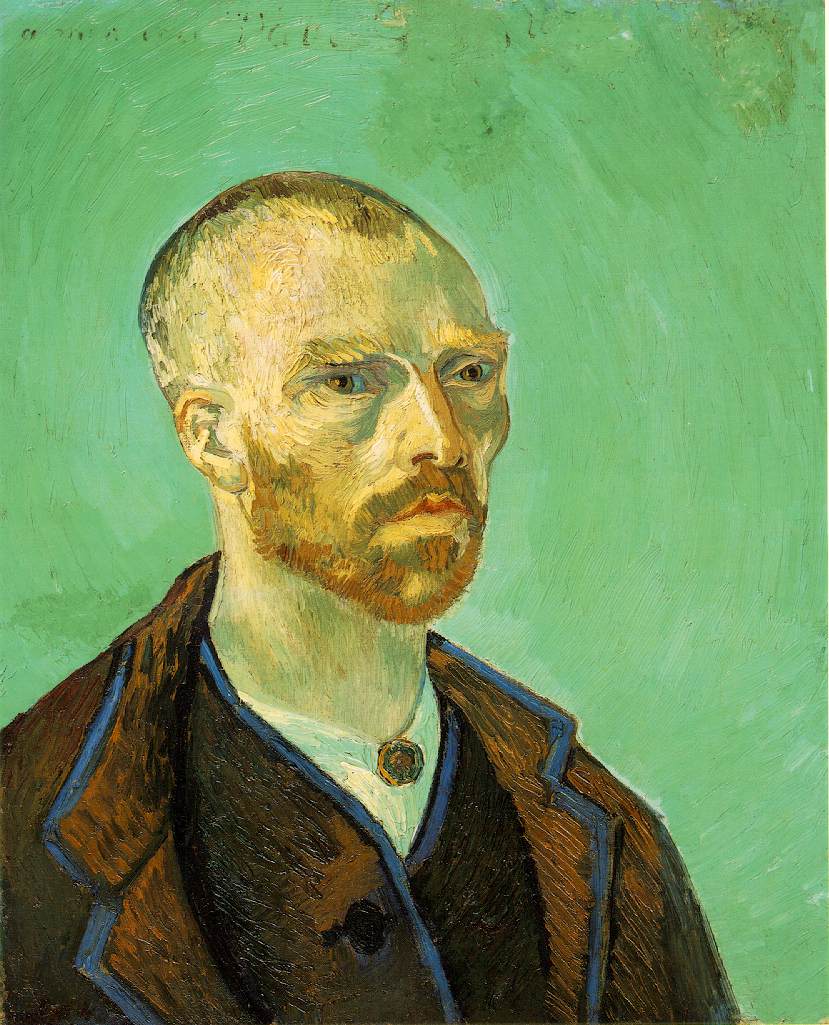 There are a number of things puzzling me, and I don't just mean how other people think and behave, and the consequences thereof in the visible world. I am puzzling to my own self.
Siegfried commented on my last, à propos Vincent van Gogh, thus:
"He was being himself and being well-adjusted to society and his personal circumstances. He became a victim too.
Being oneself doesn't immune anyone from insanity.
Well, actually being oneself doesn't really mean anything."
I understand and sympathise with the intention of these statements, even the conclusion that "being oneself doesn't really mean anything"; for yes, phrases in themselves don't mean anything. Yet a person who
says
something invariably
means
something. So if Siegfried says van Gogh was well-adjusted to society, he means something, and I'll assume he is not ignorant of the man's life, for its factual details are well-known and not mysterious, with biographies and biopics galore. The richness of information is largely due to the letters exchanged between Vincent and Theo, his art-dealer brother who supported him financially. We know that Vincent's life was eccentric and tortured at the parental home; also when he was a missionary amongst the Belgian coal-miners; also in his time with Gauguin at the Yellow House at Arles; also in the outbursts of mental illness which persuaded him to seek refuge in an institution; and finally in his stay with Dr Gachet, whose ministrations did not prevent him shooting himself and dying a few days later.
I'm not criticising Siegfried. Quite the reverse, he's my brother. Yet the affair is crucial to me because if
that
Vincent was adjusted to society then I must be too, even if I don't feel adjusted. That Vincent is a hero of mine, as artist and person. And I'd rather talk about him than myself, because I'm shy about my own maladjustments.
Vincent was himself. His inner promptings were more compelling than any urge to meet society's expectations. To be yourself doesn't immunize you against insanity---Siegfried you are right! Nor does it guarantee you happiness.
To be yourself. It's a calling: not everybody is called. It's beyond normal reason, belonging to the category of mysteries. Normal reason, you see, is on the side of happiness, moderation and compromise. Being truly yourself, you may wave goodbye to the normal and known and cautious. It's a mystery.
Mysteries are never solved. The explanations never work. The simplest things are the most mysterious. Why are we supposed to resist our instincts? Education denies mystery, and tells children there is nothing to fear in the dark. I don't know why I choose the cold and lonely road where I don't know anything. It was different when I was young.
When I was growing up I thought Buddhism offered a logical explanation, and a solid answer to the pain I felt. It gives Four Noble Truths: (1) there is suffering (2) it is caused by craving (3) the craving can be tackled (4) the craving can be tackled and the suffering overcome through the Noble Eightfold Path. My suffering and craving ran on desperate parallel tracks. The express train of adulthood came at me furiously, roaring and hissing; I stood on the tracks paralysed with fright. The Noble Eightfold Path had no rescue for my urgent peril. I needed a quick fix and thought I had it in Zen and its offer of instant enlightenment. "There's a goose in the bottle: how do you get it out without breaking the bottle or killing the goose?" The existence of such a
koan
hints at a magic answer, the
satori
moment. So when the express train comes, perhaps I can float up weightless off the tracks; or make my molecules porous, so the train can pass through whilst I am still me, without the bloody impact that seems so imminent.
I knew a man on Death Row in Florida. We exchanged letters for a year or two. I used to tell him my news, illustrated with photos. He was particularly interested when I sent pictures of women that I knew. Through him I heard of Bo Lozoff's Prison-Ashram Project, which he called Buddhism. I'm in no doubt that it helped him in that place of waiting where the only meaningful action was to make appeals against his sentence forever, one after the other, aided by the least competent lawyers in America.
What is the Noble Truth of Suffering?
Birth is suffering, ageing is suffering, sickness is suffering,
dissociation from the loved is suffering,
not to get what one wants is suffering:
in short the five categories affected by clinging are suffering.
This is what I wonder: if van Gogh had been a Buddhist, could he have led a "happy life"? Would he have painted? Well, I'm asking you what you think. But personally I don't include it in the list of insoluble mysteries. The Four Noble Truths are an explanation, and explanations never quite work. They are also sales hype and spin. O Westerner! Be warned.