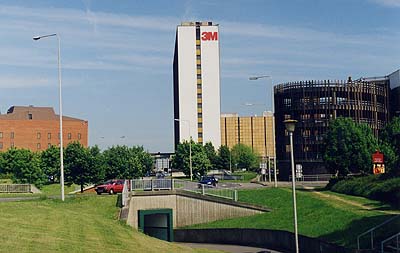 It is the fate of beautiful English towns to have been raped by mass ownership of the motorcar. You can see the ugly scars: inner-ring roads, underpasses, flyovers, clusters of roundabouts, out-of town retail parks, vast parking lots horizontal and vertical; but you don't expect them to have engulfed the entire town. Usually there's an ancient town centre with its Guildhall, Corn Exchange or Parish Church. You might find in those precincts a Royal Charter (a few hundred years old) painted on a board, which permits the driving of cattle down the High Street to market on alternate Tuesdays, and licenses the fairs at Lammas and Whitsuntide where errand boys and milkmaids may be viewed for hiring. To wander the cobbled streets and see these delights, you must consign your car to the hideous Multi-Storey Car Park, or more virtuously to the Park-n-Ride on the outskirts, proceeding onwards by bus.
There is another kind of town, not so much a rape victim but an avid whore. At such a palace of harlotry, I went to meet the MaxiRam Corporation. Babylon Town nestles or sprawls in England's Silicon Valley. A road sign told me I had reached the centre, otherwise I would not have guessed. It was more like a highway interchange in the centre of an industrial park. Office blocks and great barns housing retail outlets seemed to extend in all directions. "You are in a maze of twisty highways, all alike!"---as if it were the old UNIX text game called ADVENTURE. I could imagine the police regularly trawling the highways in paddy-wagons to impound any pedestrians, to maintain the smooth flow of motor traffic.
I lost my way a little but saw a neon sign MAXI-RAM atop a nine-storey building on the skyline, and snaked back and forth till I reached the megalith. Speaking into a discreet grille, I announced myself at the entrance barrier and was let in. The door to Reception was almost invisible from the outside, like a little hole at the bottom of a beehive. Inside was dim, vast and silent, like a hotel lobby in the closed season. I could not remember who I was supposed to see, so I told the receptionist the only name I could think of, Colin Heffer. Fortunately this was the right person.
The last time I dwelt in an office 9 to 5 was 1997. A colleague used to keep his desk and filing cabinet cluttered with kinetic toys, psychedelic hour-glass paperweights, insect-eating pot plants and a photo of his late-lamented dog. Things seem to have changed in ten years. This office big as a bowling alley was furnished with nothing but oblong tables – not desks – with not a paperclip visible, just a laptop computer on each. Hot-desking, I think they call it. There were no jungle plants, miniature waterfalls or goldfish, just one simple item of decoration: a cardboard logo hanging from the ceiling to remind the team of its client, the Office of Things in Transit, which I shall henceforth refer to as the OTT.
Henceforth? Yes, there'll be more, as MaxiRam have hired me for several months starting on February 5th.