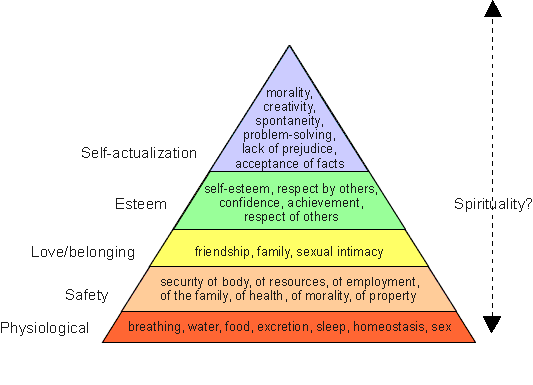 Maslow's hierarchy of needs
adapted from a diagram in Wikipedia
The last few posts have been linked, in a kind of serial discussion. I try to keep individual posts to a tolerable length---about 500 words. This allows breaks for input of comments, which greatly influence the direction we take. It's an interactive process, "as in life", like a plant growing in its environment. It's an
ongoing experiment
, which was the original title of this place in cyberspace, as still reflected in its URL:
perpetual-lab
. There are many who have not yet grasped that blogging is a new dynamic form of literature, not to be derided. I'm only beginning to grasp it myself.
I was going to talk on the theme "Distinguish what's real" but Kathy has raised a point about spirituality---a topic on which I always feel there is much to say. Where should "spirituality" be placed on the Maslow hierarchy of needs?
Here is a web page
which suggests that it should be at the top. I recall a discussion in a counselling training group where we all accepted this without question. The site linked above suggests that the spiritual needs in question are: love, wholeness, perfection, completion, fate, justice, truth, orderliness, justice, God, meditation, prayer, purity. It's a long list but why not?
In my
One Piece of Baggage
post, I spoke about people who reach the top of the Maslow pyramid and then float off like balloons into a sky full of fluffy clouds. To them that's their spiritual path---trying to grasp hold of mere words or rituals---and I
was
mocking it in a way, because something felt wrong.
Kathy must have felt the same because she commented: "I think spirituality is found at the bottom of triangle". In one sentence she punctures the New Age balloon, i mean its false element. For who can live without the spirit, whatever spirit may be, from birth onwards? It's the difference between a baby and a doll. Some would even claim that a doll is a fetish into which a certain amount of spirit is poured, from the love that its owner bestows on it. Of course this is contrary to
science
, but it's a way to talk about our
subjective experience
, which is the only place we'll ever encounter
spirit
, whatever spirit may be.
Can we put spirituality at the bottom of the triangle, along with breathing, food, excretion and sex? Yes! Spirit means breath anyhow, from the Latin
spiritus
from
spirare
, to breathe. Ancient sages of both East and West did not understand why we breathe so they made it into a ghostly myth. We know that breathing is just as basic and physiological as excretion.
Spirit by the common consent of language usage is my inner life, the ultimate feeling of "me", my instinct to worship, to feel gratitude; the joy in being alive which I share with all creation. It is the possibility of a joy transcending any material grimness or deprivation. Fie upon those who push their pseudo-spirituality in the market-place and think they are better than the poor and wretched and brain-damaged and the Death Row prisoners! Spirit is basic, and spirituality can be nothing more than a conscious connection with it,
independent of other needs.