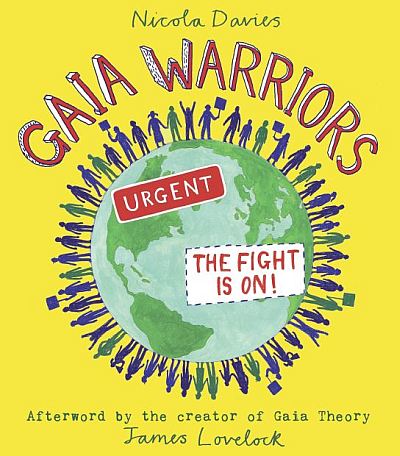 Nicola Davies' book about climate change has hardly set the world on fire. Since its publication in 2009, it has attracted two reader reviews on Amazon: one in UK, one in US. It's a lavishly-produced paperback, large format, bold use of colours and fonts; but I don't think it's selling too well now. You can buy it new for an English penny, or 96 cents US. It's designed to appeal to an audience of children without insulting their intelligence, which puts it at just the right level for me to understand. It piles on scientific detail till the reader cries "enough", and then piles on more. To sugar the pill, it's jokey and vernacular in tone:
. . . we also know that levels of greenhouse gases went up and down like a monkey on a ladder long before humans were around to influence them. . . . This mega system was given the name Gaia by James Lovelock more than 30 years ago. Gaia was a pretty wacky idea back then . . .
The information the author supplies is so comprehensive as to pass for a school textbook, were it not for the fancy colours, fonts & jokiness. But as I write these words I reflect that it probably
is
a school textbook, and it's I who am out of date by sixty years and more. Some of the textbooks I had to use were tattered remnants from earlier generations of schoolboys. Anyhow and by any standards you cannot accuse
Gaia Warriors
of being dull. Its seriousness is lightened with entertainment on many levels, not least with thought-provoking quotes:
"Humans never change unless we have to. And finally, we have to." (Severn Cullis-Suzuki. Severn is a young Canadian who has been sticking up for our planet since she spoke to the 1992 UN Earth Summit in Rio de Janeiro when she was 12.)
"Unless we have to": true and also thought-provoking. At what precise point do we find ourselves obliged to change? Scientists and activists like Suzuki assure us the "have-to" date has already passed. Here in southern England we've had two months of daily rain, leaving floods of Biblical proportions. People have been rescued from their homes in inflatable boats. There has been little else on the news till this week, but the waters subside only slowly, and, we're told, may come back:
"Keep hold of your sandbags" is the advice from Bucks County Council this week, as residents are urged to stay prepared despite receding flood levels in the last few days.
The floods affected Marlow on the river Thames, a mere seven miles from here, yet here we remain unaffected. Such is the nature of self-interest that Suzuki's awareness of "have to change" hasn't hit those of us who've stayed dry. Insurance policies may still refer to an "act of God", a phrase drained of meaning in secular England. For those whose carpets and furniture have been ruined, whose insurance will cost more and property will be worth less it feels natural to blame the Government. So it must pay compensation for a string of "failures": inadequate drainage, inaccurate weather warnings, tardy arrival in rescue boats. Perhaps influenced by the general election looming next year, politicians play along with this sense of dependency, express empathy, appear on the scene to be photographed in knee-deep water, declare that no expense will be spared.
One local politician, a town councillor eighteen miles away, blames God and the Government equally:
A UKIP councillor has blamed the recent storms and heavy floods across Britain on the Government's decision to legalise gay marriage.
(http://www.bbc.co.uk/news/uk-england-oxfordshire-25793358)
The United Kingdom Independence Party, which campaigns for Britain to be out of Europe, has expelled him from their ranks, not for opposition to gay marriage, but for dragging in religion. Apparently the councillor had "accused the prime minister of acting arrogantly against the Gospel". Voters don't like wacky ideas. They see divine retribution as even wackier than Gaia.
What sacrifices are humanity prepared to make to avert ecological catastrophe? Few and reluctant.
What attracted me to
Gaia Warriors
was not its scientific information, nor its adventurous suggestions for turning young people into activists. I've always shunned activism, shuddered at marches, demonstrations and most forms of "consciousness-raising". What drew me was the Afterword by James Lovelock, father of the Gaia concept, or perhaps, as he's now in his nineties, great-grandfather. His short essay upstages and overrides arguments made by the main author. He asserts what she denies, denies what she asserts, though gently enough for an inattentive reader to miss.
Davies:
Climate change is happening, but we're not doomed. We can't stop it, but we could slow it down and we could prepare for its effects.
Lovelock:
Unconsciously we set in motion the conditions for this war two centuries ago when we began to take more from the Earth than we could ever pay back. It was not simply by using fossil fuel for energy but also by taking the natural forests and turning them into farmland. These two acts, which made food and medicine abundant, enabled our numbers to grow until we took more from Gaia than she could give. Now we are like the victim of a loan shark, with debts larger than our means to repay them.

Gaia, the Earth system, regulates the planet so it always remains habitable, but to do so she needs the natural forest ecosystems intact. What we humans have done by taking them for ourselves alone is to make the Earth uninhabitable. I think it unlikely that anything we do will alter the course of this change.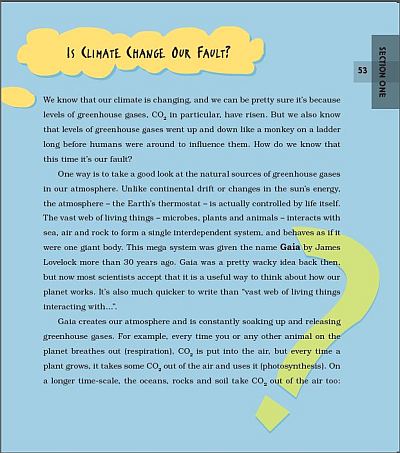 Davies:
The good news about this battle is that it isn't going to involve guns, blood and killing; the weapons you'll need to help fight it are ideas, energy and determination. The even better news is that there are already lots of people out there fighting, and actually enjoying being part of such an exciting and challenging struggle. Who knows, if you join them, we might just save the world.
Lovelock:
. . . despite pretending otherwise, humans are war-loving animals, the words "Gaia" and "warriors" do indeed go together.

Warriors do not march to have a friendly discussion, or even an argument. Warriors march to battle and usually intend to win and make sure that their beliefs prevail. . . . In this, the 21st century, warriors may be faced with an older and simpler form of conflict: that of fighting for survival.

Nobody – not the cleverest scientist nor even a committee made up of Nobel Prize winners from each of the sciences – can with certainty predict the world of 2030 and tell us how to live peacefully there. Nor can they tell us how to restore the Earth to the lush and habitable state it was in sixty years ago. There are no sure answers, and Gaia, the Earth system, is moving faster than we can respond, still less oppose its motion.

Survival is our only option and, before long, some people will find that their part of the Earth is less harmed by climate change than others. Naturally those whose land becomes desert or is flooded and can no longer provide food and water will move to where there is plenty. Because of our natures, war between these haves and have-nots is inevitable. There will not be food and water enough for both. Sometimes the invaders will win and other times the defenders; what matters is that there are survivors so that there continue to be humans on the Earth.
Lovelock does acknowledge "Gaia Warriors", in the sense that Davies intends the term, when he says
"The ultimate survivors will probably include some powerfully effective Gaia warriors, and we will have evolved another step towards a new and perhaps more intelligent species of humans."
As the excerpts above express plainly, Lovelock places no faith in the remedies proposed by that minority of well-meaning dreamers, those we call eco-warriors. Politicians pay lip-service to their aims, knowing, if they are intelligent, that wind farms, turning off lights and recycling plastic bags are mere window-dressing. Reality will hit us in the face as and when it does. Then humanity will react, on the age-old principle by which we are here: survival of the fittest.
He holds out hope, but it won't bloom in our lifetimes, or those of our grandchildren:
Let us look forward to the time when our descendants have evolved to become Gaia's brain—clear in thought and clear in vision—and Gaia's T cells,her warriors, the true defenders serving the first intelligent planet in our galaxy.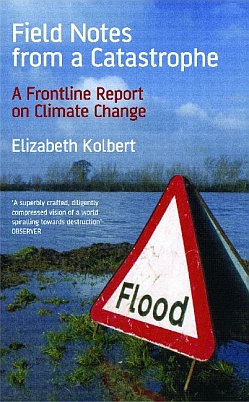 One reviewer says this:
The afterword by James Lovelock seems rather gloomy and heavy-handed considering the age of the intended readers. That said, I believe it could also provide a critical introduction for children to a concept that is going to hold such a pivotal and relevant place in their adulthood.
(Grace ter Haar, in
The Ecologist
)
I've lived with these ideas of James Lovelock for several years, and don't find them gloomy now. I find little or no hope in eco-activism. I place more hope in a reformed morality and spiritual vision after the follies and toxic beliefs of the world's religions have been consigned to extinction, along with the follies and toxic beliefs of blind materialism.
Let Lovelock have the last word:
Some people see Gaia as the mother of everything alive, allpowerful, with a religious significance as part of God's creation; others as the name of a scientific theory about the Earth system. I see her as something that includes both of these ideas . . .
———————
For the full text of Lovelock's Afterword, showing the above quotations in context, follow
this link.