By day, my bedroom window is transformed into a viewing platform to watch the renascence of my Sun-dial Factory across the road. On
April 29th 2013
, I wrote a piece beginning:
I see things as imbued with meaning, like fragments written in a foreign language. Sometimes I can decipher them; sometimes even put them in English. For instance, from my bedroom window I can see the Victorian factory opposite. I wake as the early sun catches its gable ends. As on a sun-dial, it moves rapidly down the walls . . .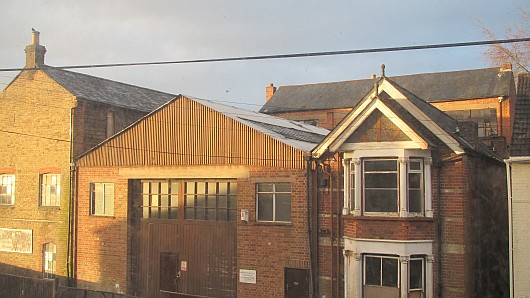 And then on
April 1st 2014
I said, "If I am to die in my own bed—best way to go—the last thing seen by these eyes may be rosy-fingered dawn advancing over that self-same frontage." Which implies some kind of personal investment in the building still being there.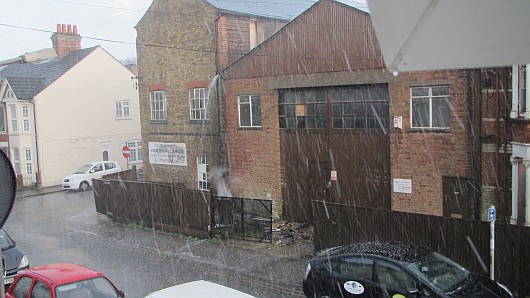 But after surviving as a factory for a century in all economic climates and varieties of English weather, it was finally sold with planning permission for residential use. And then building began.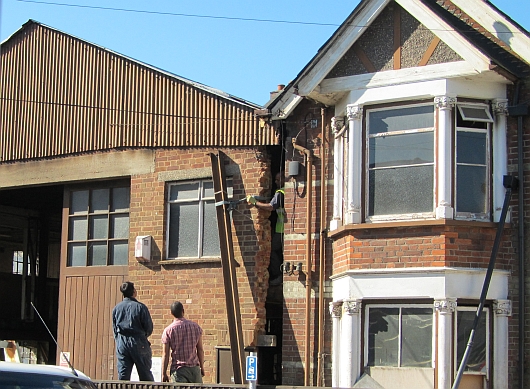 There wasn't much to see at first, just bricks being delivered, debris and subsoil being taken away, whilst they dug new foundations and a drainage system, all behind the sliding doors of the central shed.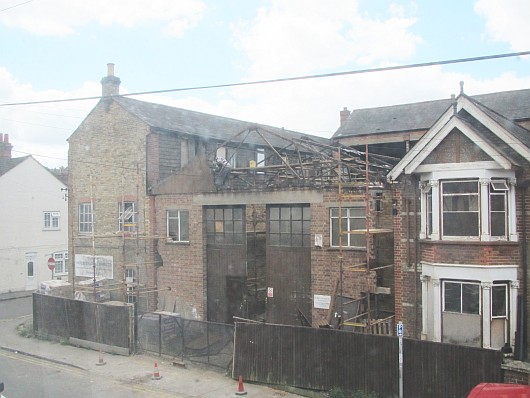 Then it was time to remove the roof of the shed because the architect's plan specified an open courtyard.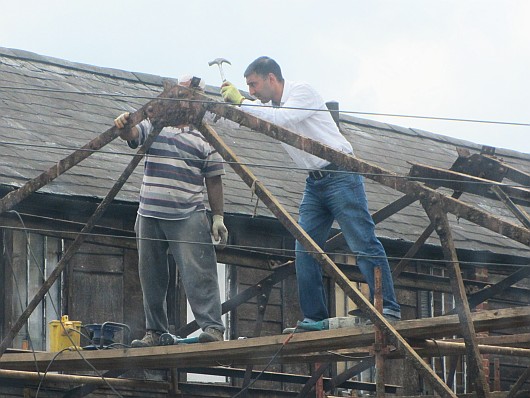 The boss always wears a dazzling white shirt. Occasionally I see him working hands-on.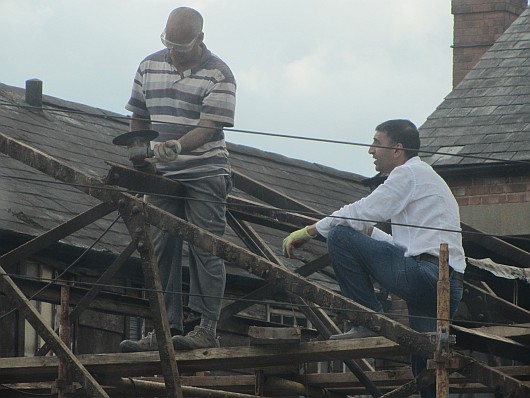 Mostly he provides guidance, inspiration—and wages. I understand he bought the property himself and will be landlord when it is finished. These pictures may convey the impression of a building site in some Asian country. Your surmise is not far out. The buildings survive from Victorian England, but the prevailing culture survives from Pakistan, some time in the 20th century. In our multiverse, worlds intersect. And on this site, as far as I can see, they carry the bricks and mortar in buckets, up ladders and rickety scaffolding. Elsewhere in the UK, they'd use hydraulic cherry-pickers—boom lifts in American English—to save their leg-muscles.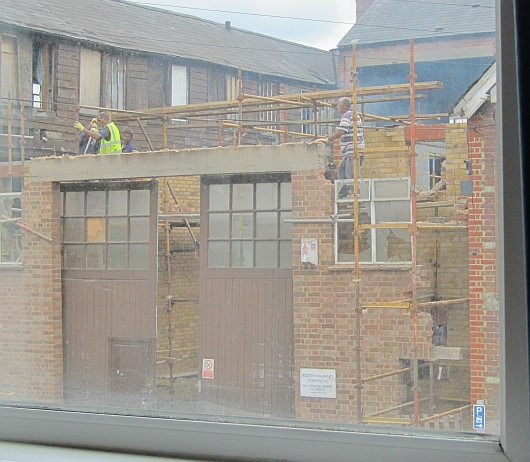 One day through the dirty window of my observation platform my inquisitive eyes perceived that the team were preparing to remove the heavy concrete lintel from above the shed's sliding doors.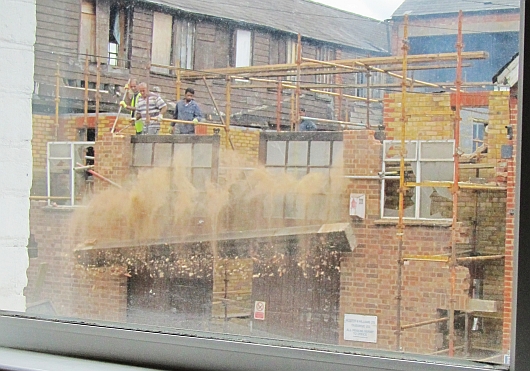 It just required a concerted push. My patience was rewarded by capturing a shot of the the thing in full flight, something I never manage with birds or butterflies.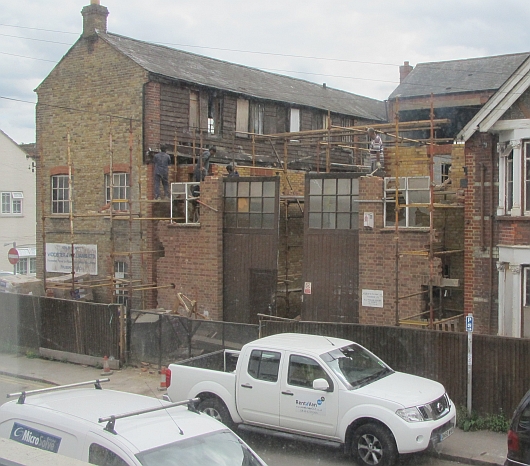 The boss had prudently moved his dazzling white pickup round the corner for this operation, and worn a yellow vest, the more officially to hold up traffic in case of bouncing debris. Then it was safe to bring back the pickup.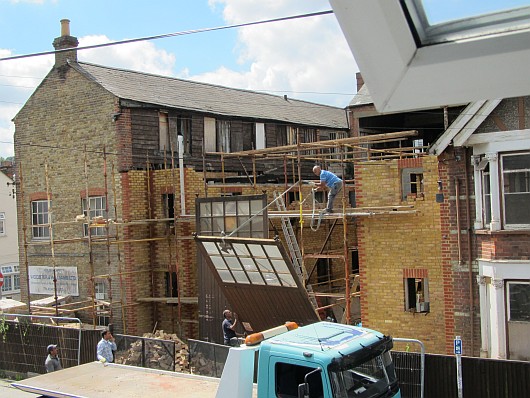 After this it was an easy job to use a sledge-hammer on the front shed wall and reduce it to two piles of bricks. Then the boss brought round a flat-bed truck to carry away the doors. You can see one being lowered inch-by-inch.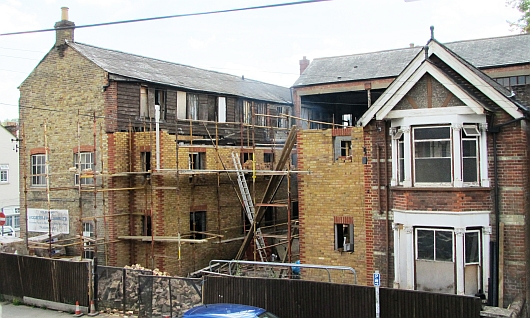 So now we see, once the façade of the old shed is removed, how the new version of the old building is taking shape, with bricks to match, once their brightness has weathered. You can begin to see the little courtyard, due to be surrounded by students' rooms on three sides. The architect's vision becomes manifest, brick by brick. I'll keep you posted periodically.
For weeks I've been waiting for a book to arrive from the States. I once had a book of Eckhart's writings. I think I bought it in 1971. It had an orange and yellow cover. I couldn't remember the title or publisher, and couldn't see it illustrated anywhere on the Web, so in the end I settled for a volume on sale at a penny, plus standard Amazon postage. When the parcel came yesterday, I discovered it was the same book, the one I'd owned and loved but neglected and lost; the same book whose distinctive cover I'd retained in memory. It can't surely be the actual copy I once possessed, but it's as good as. As I revisit its pages, the content seems to reach me without effort, as if I'm finally ready to absorb it, just as plants serenely take in sunlight via photosynthesis. Reunion with an old friend; rebuilding from within—happy coincidence. Or a call answered.